Navy Smart
Navy Times has broken their website and their RSS feeds are down. This is impacting the script that parses their news. Their website is being monitored to see if they resolve their issue. This feature may change to a different news provider or be removed based on their action or inaction.
Naval History Edit
1776, November 29th, Friday, 245 years ago

Continental brig Reprisal arrives in Quiberon Bay, France, becoming the first Continental vessel to arrive in Europe. Reprisal was carrying Benjamin Franklin who was acting as the diplomatic agent to the country.

1929, November 29th, Friday, 92 years ago

Cmdr. Richard E. Byrd makes the first flight over the South Pole.

1943, November 29th, Monday, 78 years ago

TBF aircraft of VC-19 based on board USS Bogue (CVE 9) sink the German submarine U-86 about 385 miles east of Terceira, Azores.

1944, November 29th, Wednesday, 77 years ago

USS Maryland (BB 46) is hit by a kamikaze off Leyte. She is repaired in time for Okinawa Invasion where she is hit by a kamikaze again April 7, 1945.

1944, November 29th, Wednesday, 77 years ago

USS Archerfish (SS 311) sinks Japanese carrier Shinano on her maiden voyage 160 nautical miles southwest of Tokyo Bay. Shinano is the largest warship sunk by any combatant submarines during World War II. Also on this date, USS Scabbardfish (SS 397) sinks Japanese submarine I-365 east of Honshu.

1990, November 29th, Thursday, 31 years ago

The UN approves Security Council Resolution 678 authorizing the use of military force unless Iraq vacates Kuwait by 15 January 1991.

1995, November 29th, Wednesday, 26 years ago

An F/A-18E1, the first Super Hornet, makes its first flight at Lambert International Airport near St. Louis, Mo.
1881, November 30th, Wednesday, 140 years ago

The whaler Rodgers is destroyed by a fire at St. Lawrence Bay on the Siberian coast. . Before the fire, Rodgers had charted Wrangel Island, proving conclusively that it was not part of the Asian continent.

1912, November 30th, Saturday, 109 years ago

Lt. Theodore G. Ellyson, the first U.S. Navy officer to qualify as an airplane pilot, tests the Navys first C-1 flying boat at Hammondsport, N.Y.

1942, November 30th, Monday, 79 years ago

USS Northampton (CA 26) is sunk and USS Pensacola (CA 24), USS New Orleans (CA 32), and USS Minneapolis (CA 36) are badly damaged by a Japanese torpedo counter-attack during the Battle of Tassafaronga at Guadalcanal.

1943, November 30th, Tuesday, 78 years ago

PBY aircraft sink the Palau-bound Japanese cargo ship Himalaya Maru south of New Hanover, Bismarck Archipelago.

1993, November 30th, Tuesday, 28 years ago

President William J. Clinton signs legislation that lifts the ban on women serving aboard combat ships.

2001, November 30th, Friday, 20 years ago

The Battle of Tora Bora begins when naval reconnaissance aircraft spot Taliban troops fleeing toward Tora Bora, a summit that rises from the Spin Ghar Mountains about 35 miles southwest of Jalalibad, Afghanistan. Al-Qaeda terrorist Osama bin Laden had lavished gifts among the local Suleiman Khel tribesmen who thus sheltered the fugitive and his followers.
1842, December 1st, Thursday, 179 years ago

Midshipman Philip Spence, Boatswains Mate Samuel Cromwell, and Seaman Elisha Small of the Bainbridge-class brig Somers are executed for mutiny. Spencer was the son of then-Secretary of War, John Canfield Spencer.

1914, December 1st, Tuesday, 107 years ago

Rear Adm. Alfred Thayer Mahan dies. A graduate of the Naval Academy and a veteran of the Civil War, he served two tours as President of the Naval War College. He is also known for his numerous naval publications, notably The Influence of Sea Power upon History.

1921, December 1st, Thursday, 100 years ago

The first flight of an airship filled with helium, the C-7, leaves Norfolk, Va., and arrives later that day in Washington, D.C. The airship is commanded by Lt. Cmdr. Zachary Lansdowne and piloted by Lt. Cmdr. Ralph F. Wood.

1943, December 1st, Wednesday, 78 years ago

USS Bonefish (SS 223) sinks Japanese transport Nichiryo Maru in the Celebes Sea while USS Pargo (SS 264) sinks the Japanese transport Shoko Maru north of Ulithi. Also on this date, USS Peto (SS 265) sinks Japanese transport Tonei Maru.

1945, December 1st, Saturday, 76 years ago

Capt. Sue S. Dauser, Navy Nurse Corps, receives the first Distinguished Service Medal awarded to a nurse for her leadership of Navy nurses during World War II.

1984, December 1st, Saturday, 37 years ago

USS Taylor (FFG 50) is commissioned. The ship is named after the late Jesse Junior Taylor, who gave his life attempting to save the life of a downed pilot during an attack on the key bridge near the North Vietnamese port of Haiphong, and consequently awarded the Navy Cross for extraordinary heroism.

2013, December 1st, Sunday, 8 years ago

Pilots and Sailors of VP-16 arrive on station at Kadena Air Base Okinawa for the first deployment of the P-8A Poseidon aircraft. The P-8A will eventually replace the venerable P-3 Orion.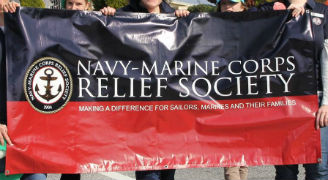 AHRN (Automated Housing Referral Network)

Database of house listings designed to connect PCSing servicemembers with landlords and property managers with available housing.

Allotment

Automatic payments from your paycheck to organizations, individuals, or savings accounts. Sailors can create up to six discretionary allotments.
Log in to MyPay > "Allotments".

Alternate Cardio Calculator

Convert alternate cardio scores to a PRT run time.
Log in to BUPERS > "PRIMS" > "Help" > "Bike / Elliptical Calculator".
Or, when BUPERS is inevitably down: Log in to My Navy Portal > "Career & Life Events" > "Performance" > "PFA Calculator".
Amazon Smile link with proceeds benefiting the Navy-Marine Corps Relief Society.

ASM (Advanced Skills Management)

Training management system.

Awards [.doc]

End of Tour: Typically submitted to admin, along with supporting paperwork, 90 days prior to member transferring. If the Sailor is separating, the paperwork should be submitted 90 days prior to the start their terminal leave and the Sailor should schedule a CDB.
Sailors are able to check their received awards on NDAWS.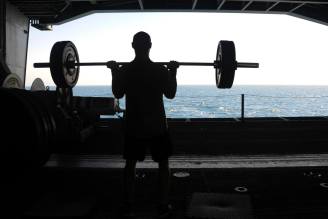 BAH Calculator (Basic Allowance for Housing Calculator)

Calculate housing allowance by ZIP code.

BIBs (Bibliographies)

Official study guides for enlisted advancement exams.
Go to Navy Cool > Select your rate in the "– Advancement Exam Bibliographies –" drop down menu > Press "Go" > Select your rank under "Advancement Exam Bibliographies" > Select "Bibliographies" for your active duty status.
Pro Tip: Bibliographies are posted on Navy Cool six months before the exam date.
Pro Tip: The Chief Exam is always the third Thursday in January, and Petty Officer Exams are always the first three Thursdays in March and September. If you're up for an exam, schedule leave for another time.
NMCI only allows access to sites categorized by Blue Coat. Uncategorized sites are blocked but can be submitted for review.
Enter the URL > "Check Rating". Set "Filtering Service" to "Blue Coat ProxySG", set the appropriate "Category" and press "Submit for Review".
Ships high-quality protein powders and supplements underway.

Brag Sheet [.doc]

Keep a running brag sheet for your time at a command. Be detail oriented, quantitative, and keep separated files for each EVAL period. Information from this document is used to create EVALs and awards.

BUPERS (Bureau of Naval Personnel Online or BOL)

Access to several administrative records.
CAC Reader Configuration [.pdf] (Common Access Card Reader Configuration)

A CAC Reader installed on your computer allows access to many military websites. Italicized links on this site require your CAC inserted into a configured CAC reader before loading.

CANTRAC (Catalog of Navy Training Courses)

Search training and E-Learning courses.

CDB Worksheet [.doc] (Career Development Board Worksheet)

The worksheet needed for a CDB; a formal meeting with a Sailor and their Chain of Command for Sailor familiarization and discuss expectations, command mission, and SMART goals (Specific, Measurable, Attainable, Realistic, Trackable). Conducted within 60 days, 24 months, 48 months, and 60 months after checking into a new command or at the request of the Sailor, their Chain of Command, if a Sailor did not advance on their advancement exam, or make board on their chief exam.
Pro Tip: LPOs, periodically review your Sailor's goals and follow-up with them to see how they are progressing.

CeTARS (Corporate Enterprise Training Activity Resource System)

Information on Navy NECs (Navy Enlisted Classification) and schools.

CFC (Combined Federal Campaign)

Contribute a portion of your paycheck to charitable organizations. Paycheck contributions can only be created from 01OCT-31DEC but the charity list is viewable year-round.
Log in to MyPay > "Combined Federal Campaign (CFC)".

CIMS (Career Information Management System)

A variant of NSIPS available to Career Councilors to manage Sailor's careers.
Manage government travel cards.

CMS/ID (Career Management System/Interactive Detailing)

Replaced by My Navy Assignment November 2019.

Community Summary Sheet

A monthly snapshot of a rating's health.
NPC > "Enlisted" > "Community Managers" > (Select your community, ie: "Information Warfare") > (Select your rate, ie: "CTN") > (Rating) Community Overview.

Counseling Chit [.pdf]

Formal documentation for counseling a Sailor.
Pro Tip: Counseling chits create a needed paper trail to deal with repeat offenders, but formal documentation isn't always the best approach. If appropriate, consider talking with the Sailor in private for first and minor offences.

CPO 365 (Chief Petty Officer 365)

An introduction to topics necessary to support junior Sailors and the Chief's Mess.

CWAY (Career Waypoints)

Provides access to CWAY for career counselors.
DEERS (Defense Enrollment Eligibility Reporting System)

A database of information on uniformed services members, their families, and other DoD personnel. You need to register in DEERS to get TRICARE.
Changes to DEERS are made at RAPIDS offices.

DISS (Defense Information Security System)

View security clearance information. Replaced JPAS 31MAR21.

DITPR/DADMS (Department (of Defense) Information Technology Portfolio Repository/Department (of the Navy) Applications and Database Management System)

Computer system for tracking Information Technology systems.

DoD ID (Department of Defense Identification)

A unique number given to each service member for identification found on a CAC. It can be used as a "Known Traveler Number" for flights.
Reference other service member's DoD ID: Log in to Global Directory Service > Complete the form with the service member's information and press "Search" > Click the "Last Name" for the correct service member > "Download Certificate(s) as .cer file (Non-Outlook Users)" > Click a certificate under "Select a certificate from the available certificates for .cer download." > Open the file > Locate the DoD ID number in the "Issued to:" field after the last period.

DoD Lodging (Department of Defense Lodging)

Inexpensive military lodging facilities available to service members.

DoD NIC (Department of Defense Network Information Center)

Manages DoD IP (Internet Protocol) addresses. Provides whois searches and IP assignments.

DoD SAFE (Department of Defense Secure Access File Exchange)

Allows exchanging files up to 8GB that are too large for email.

DOTS (DoDIIS One-Way Transfer Service)

Send files to SIPRNET & JWICS email addresses. Transfers can take several hours.

DTMO (Defense Travel Management Office)

Official travel resources including per diem lookups.

DTS (Defense Travel System)

Reserve hotel rooms, rental cars, and airline tickets for official travel. For issues while on travel, contact Travel Assistance Center at 1-888-435-7146.
Veteran portal to view and manage benefits.

E-Learning

Another name for the NETC Learning Management System.
Allows a service member to view their administrative data such as PRD, EAOS, clearance information, as well as training, qualifications, certifications, assignments, and career history.
LPOs, TPOs, DIVOs, and Career Counselors are able to see other's training jackets using FLTMPS.

Email

Remotely access email. Select your CAC's email certificate when prompted.
Per DON CIO GENADMIN message, emails that contain Personally Identifiable Information (PII) should be digitially signed, encrypted, have "

FOR OFFICIAL USE ONLY - PRIVACY SENSITIVE

" in their subject line, have "

FOR OFFICIAL USE ONLY - PRIVACY SENSITIVE: Any misuse or unauthorized disclosure of this information may result in both criminal and civil penalties.

" in their body, and sent to recipients with an official need-to-know.

e-QIP (Electronic Questionnaires for Investigations Processing)

Enter and update your background information during a security clearance reinvestigation.
Previous questionnaires can be requested.

ESAMS (Enterprise Safety Applications Management System)

Track safety related inspections, mishaps, and to receive training.

EVAL (Evaluation)

A performance report, typically yearly, used to document performance and to compare against peers.
View previous EVALs on OMPF: Log in to BUPERS > "Official Military Personnel File (OMPF) - My Records".
Use NPC for EVAL writing instruction. The current BUPERSINST 1610.10 is linked from their homepage which provides the full instruction for each block.
Pro Tip: Writing your EVAL on the go without access to NAVFIT? Write block 43 in notepad. You're allowed 18 lines of 92 characters. View a Microsoft Word template.
Pro Tip: First Classes, write your EVAL using the latest Chief Precept.
Navy's implementation of an online collaborative hub allowing access to Microsoft Office tools including Outlook and Teams. When logging on, you must type in your "name.mil@us.navy.mil" email address and press the "Sign in with CAC/PIV" link instead of a password when you are prompted for your password. Select your PIV certificate.

FLTMPS (Fleet Training Management and Planning System)

Used by LPOs, TPOs, DIVOs, and Career Counselors to view Sailors' training, qualifications, certifications, assignments, and similar type information.
Individuals are able to view their own records at Electronic Training Jacket.

FVAP (Federal Voting Assistance Program)

Assists service members to vote in their elections.
DoD email address directory. A white pages or 411 style database.
HIV (Human Immunodeficiency Virus)

A communicable virus that left untreated can severely compromise the immune system in a condition called AIDS (Acquired Immunodeficiency Syndrome). Navy personnel are tested every two years to test for the virus. For males, it is the only STI Testing routinely performed after joining the military. PrEP is available for all individuals at very high risk of infection. HIV positive Sailors can continue serving in the Navy in both shore and sea commands.
Converts webpages to text documents for fast loading on slow networks.

HRA (Health Risk Assessment)

Medical questionnaire required to complete your PHA. Complete and bring your HRA with you to both parts of your PHA.
IA (Individual Augmentee)

Provides information to Sailors about Individual Augmentations.

ICDP (Individual Career Development Plan)

A Career Counselor database on CIMS containing Sailor's previous CDBs.

IMR (Individual Medical Readiness)

View medical and dental status.
Log in to BUPERS > "IMR".
Unclassified open-source intelligence that can be shared and improved in a collaborative environment.

ITT (Information, Travel, and Tickets)

Offers discounted tickets and admissions to attractions and hotels to service members.
Other service branches have similar offices Sailors are able to use: Army
View our Navy travel map for ITT locations for all branches.
JKO (Joint Knowledge Online)

The Joint Military's learning and education web site.

JPAS (Joint Personnel Adjudication System)

Replaced 31MAR21 by DISS. View security clearance information.

JST (Joint Services Transcript)

Formerly SMART (Sailor/Marine American Council on Education Registry Transcript)
View your transcript earned from attending Navy schools.

JTR [.pdf] (Joint Travel Regulations)

Travel regulations manual.
Known Traveler Number

Military personnel are automatically enrolled in TSA Pre✓. Enter your DoD ID Number (found on the back of your CAC) as your Known Traveler Number when purchasing airfare and skip long lines at the airport.
Add your Known Traveler Number to your DTS account.
Log in to DTS > "Traveler Setup" > "Update Personal Profile" > "My TSA Information"
LaDR (Learning and Development Roadmap)

Official career plans and expectations for enlisted Sailors.
Go to Navy Cool > Click "Rating" in the navigation menu > Select your rate from the list > Press "Go" > Press your rate's LaDR button.

LES (Leave and Earnings Statement)

A paystub that shows entitlements, deductions, and allotments, as well as your leave balance.
Log in to MyPay > "Leave and Earnings Statement (LES)".
Member Data Summary

A summary of a Sailor's service record.
Log in to NSIPS > "Employee Self Service" > "Electronic Service Record" > "View" > "Member Data Summary".
Pro Tip: Bring your Member Data Summary and bring it with you to your CDBs.
Transfer Post-9/11 GI Bill (Government Issue Bill) education benefits to dependents, update personal and work contact information, and view primary care manager.
View military-operated or military-approved child care programs.
Donate blood for the Armed Services Blood Program. Donors are eligible to redonate every eight weeks.

MILPERSMAN (Military Personnel Manual)

Manual providing policy and instruction.
Schedule moving house hold goods when you PCS (Permanent Change of Station).
Allows Sailors to view and apply for orders for their next command. Sailors are also able to set location preferences for future orders. Replaced CMS/ID November 2019.
Pro Tip: Thirteen months before your PRD, update your contact information and duty station preferences.
The official replacement for NKO (Navy Knowledge Online). Provides some links to Navy resources when it works.
View and manage payment, leave, and tax information.
NAVADMIN (Naval Administrative Message)

Naval messages that set new policy, revise old policy, and make announcements.

NAVPERS (Navy Personnel)

Navy Personnel Command documents.
Organization charged with E-4–E-9 advancement.
Navy Advancement Center Facebook: Where announcements are posted related to enlisted advancement exams, such as quotas and advancement results. E-4–E-6 quota announcements are twice a year, typically the week before Memorial Day and the week before Thanksgiving. E-7 quota announcements are typically in late June. E-8 quota announcements are typically in early June. E-9 quota announcements are typically in late March.

Navy COOL (Navy Credentialing Opportunities On-Line)

Provides information on certifications and licenses. Navy COOL also provides vouchers to pay for credential exam and maintenance fees.
Online guide to completing and improving FITREPs, EVALs, and awards.
Access audiobooks and other media for free. Sync your library account with OverDrive on your smartphone and listen to audiobooks during your commute.
For initial access, create a library account using your CAC at Navy MWR Digital Library > "Login" (under "Common Access Card") > "Sign up here" (next to OverDrive) > "Account" > Create your library credentials under "New users:".
Download the OverDrive app onto your smartphone and create an OverDrive account.
Add the library to your OverDrive account using library credentials. The library is listed under "United States" > "US Navy".
Pro Tip: Different libraries have different book selections. Add additional libraries, such as your local community's library, to your OverDrive account.
Provides financial assistance and education to Sailors, Marines, and their family.

NDAWS (Navy Department Awards Web-Service)

Database to view your personal and unit awards.

NETC Learning Management System (Naval Education and Training Command Learning Management System)

Online Navy training website for completing annual General Military Trainings (GMTs).

Network Security

Resources to keep abreast of emerging computer network threats.

NFAAS (Navy Family Accountability and Assessment System)

Family emergency contact information.

NMCI Homeport (Navy Marine Corps Intranet Homeport)

Computer network for CONUS shore commands. Submit trouble tickets online, and view current system outages and telephone prompts if calling their help desk (1-866-843-6624).

NPC (Navy Personnel Command)

Career counselor resources.

NROWS (Navy Reserve Order Writing System)

View and editing navy reserve orders. Reservists must log in every 60 days.

NRTC (Non-Resident Training Courses Library)

Provides NEETS Modules (Navy Electricity and Electronics Training Series Modules) and other publications to allow Sailors to become more efficient in their rate or to become familiar with other rates for cross-rating.

NSIPS (Navy Standard Integrated Personnel System)

View your Electronic Service Record, training data, and career counseling records. Some commands use NSIPS for routing leave requests.
1-800-874-2273, option 1
Nurse hotline staffed 24/7. Receive recommendations for the most appropriate level of care. Call this number if you're unsure if you should go to the emergency room or not.
OIX (Official Information Exchange)

View message traffic.
A database of command ombudsman. An ombudsman serves as a point of ocontact for families and acts as the liaison between a command and families. Ombudsman can help navigate Navy life through resources and information.

OMPF (Official Military Personnel File)

Digital copies of EVALs, qualifications, administrative remarks, and other personnel records.
Log in to BUPERS > "Official Military Personnel File (OMPF) - My Records".

OPNAVINST (Office of the Chief of Naval Operations Instruction)

Depository of formally documented lawful orders issued by the CNO.

Orders

Official documentation that assigns Sailors to commands for a set duration of time. Includes instructions for transitioning between commands.
Log in to NSIPS > "Employee Self Service" > "Electronic Service Record" > "View" > "Orders History". If enabled, disable your browser's pop-up blocker. Select "View Orders Text" for the set of orders you would like to view.

OWA (Outlook Web Access)

A website to read and send email. See Email for a list of OWA servers.
Page 2 (NAVPERS 1070/602)

Dependency Application and Record of Emergency Data.
Official Copy: Log in to BUPERS > "Official Military Personnel File (OMPF) - My Records" > "OMPF Documents" > Form Number 1070/602.
Working Copy: Log in to NSIPS > "Employee Self Service" > "Electronic Service Record" > "View" > "Dependency Data" > "Print Form" (Yellow button near bottom of screen) > "OK" > "Main Menu" > "NSIPS Report Manager" > "View" (Next to "Dependency Application", press "Refresh" until "View" appears) > Under "File List" click the link for the "PDF" document.

Page 4 (NAVPERS 1070/604)

Enlisted Qualifications History.
Official Copy: Log in to BUPERS > "Official Military Personnel File (OMPF) - My Records" > "OMPF Documents" > Form Number 1070/604.

Page 13 (NAVPERS 1070/613)

Administrative Remarks.
Official Copy: Log in to BUPERS > "Official Military Personnel File (OMPF) - My Records" > "OMPF Documents" > Form Number 1070/613.
Blank Form: NAVPERS 1070/613 [.pdf]

PARFQ (Physical Activity Risk Factor Questionnaire)

Log in to BUPERS > "PRIMS" > "Member" > "PARFQ" > "Add PARFQ".
View, modify, and schedule medical appointments.

Payday Countdown

A payday countdown, accurate to within the hour, is at the top of this page inside the

orange

Amazon and Navy-Marine Corps Relief Society (NMCRS) announcement.
Please use this link, and encourage others to use it too, when shopping on Amazon. It's the same selection, prices, and shipping, but Amazon donates a portion of their profit to NMCRS when you use it.
If you just learned about this site after seeing a bus stop ad, please

click this

to let us know.

PCS My POV (Permanent Change of Station My Personally Owned Vehicle)

Information on turning in, tracking, and picking up personally owned vehicles when PCSing to overseas commands.
Per diem is an allowance for lodging, meals and incidental expenses that is provided for some types of official travel.

PFA Report (Physical Fitness Assessment Report)

Log in to BUPERS > "PRIMS" > "Member" > "Reports" > "PFA Listing All Cycles".
Or, when BUPERS is inevitably down: Log in to My Navy Portal > "Career & Life Events" > "Performance" > "PRIMS" > "Export as PDF".

PHA (Physical Health Assessment)

Annual medical screening typically conducted during the Sailor's birth month. Usually two parts: a walk-in to get a checklist and visiting the needed departments (best if fasting for 12-hours if fasting blood work is needed), and a scheduled appointment with your Primary Healthcare Provider. Bring your completed HRA to both parts of your PHA.

Precept

Qualities advancement boards are looking for in officers and chiefs.

PrEP (Pre-Exposure Prophylaxis)

A daily medication for people at very high risk of HIV infection to lower their chances of getting infected. The medicine and all required labs are fully covered for Navy personnel. In Hampton Roads, Primary Care Manager referrals are not needed, contact the Portsmouth Infectious Disease Clinic directly.

PRIMS (Physical Readiness Information Management System)

Log in to BUPERS > "PRIMS".
Or, when BUPERS is inevitably down: Log in to My Navy Portal > "Career & Life Events" > "Performance" > "PRIMS".

Privacy Act Data Cover Sheet [.pdf]

A cover sheet for all documents containing personal information.
Pro Tip: Use less ink by printing our black and white cover sheet [.pdf] version. (87% savings compared to the full color version and 56% savings when compared to the full color version printed in greyscale.)
View your score on enlisted advancement exams. Shows your advancement date if selected for advancement.

Promotion Dates

View your promotion dates.
Log in to NSIPS > "Employee Self Service" > "Electronic Service Record" > "View" > "Promotion History".

PRT Standards [.pdf] (Physical Readiness Test Standards)

Scores needed to pass the PRT.
Quotas

The number of enlisted sailors advancing in rank. Announcements are made by Navy Advancement Center. E-4–E-6 announcements are twice a year, typically the week before Memorial Day and the week before Thanksgiving. E-7 announcements are typically in late June. E-8 announcements are typically in early June. E-9 announcements are typically in late March.
RAPIDS (Real-time Automated Personnel Identification System)

Appointments: Schedule ID card appointments.
Locations: Find a RAPIDS office.
Pro Tip: You must provide a primary and secondary unexpired IDs. Two different primary IDs satisfy the primary and secondary ID requirements. Acceptable primary IDs include: Military ID card, Driver's License, State ID, and Passport or Passport Card. Acceptable secondary IDs include: Social Security Card, Original or Certified Copy Birth Certificate, Voter's Registration Card, and Photo ID Card issued by a Federal, State, or Local Government Agency.
Communicate with your health care providers.

Rewards Programs [.pdf]

Sign up with airline, hotel, and car rental rewards programs and earn benefits on official travel for personal use later.
Add rewards program numbers to your DTS account to automatically reap benefits on government booked reservations. Log in to DTS > "Traveler Setup" > "Update Personal Profile" > "My Preferences" > "Rewards Programs" (blue button at the bottom of the page)
SAAR-N (System Authorization Access Request - Navy)

Form required for access to Navy computer networks.
Study material for Navy Advancement and professional development.
Crisis support service for members of the DoD community affected by sexual assault.

SAILOR (SPAWAR Acquisition and Integrated Logistics Online Repository)

Access current hardware and software documentation and configurations.

SAPR (Sexual Assault Prevention and Response)

Guidance and instruction for SAPR advocates.

SATO (Scheduled Airlines Ticket Office)

The commercial travel office that purchases airline, hotel, and car rentals for servicemembers on travel through DTS. Find your local travel office's contact information to adjust travel arrangements as needed.
Place a "Itinerary / Invoice Request" on your local travel office's page.

SATO Vacations (Scheduled Airlines Ticket Office Vacations)

Purchase airline, hotel, and car reservations for personal use at government rates.
View our Navy travel map to view DoD lodging locations and Space-A terminals for added savings.

SDP (Savings Deposit Program)

Allows service members serving in designated combat zones to earn to 10% interest on deposited funds.
Log in to MyPay > "SDP Statement / Withdrawal Request".

SF (Standard Form)

SF86: Security Clearance Questionnaire. Complete this form using e-QIP. Previous questionnaires can be requested.
SF701 [.pdf]: Activity Security Checklist - Used for rooms.
SF702 [.pdf]: Security Container Check Sheet - Used for safes.

SGLI (Servicemembers Group Life Insurance)

Low-cost term life insurance policy available to eligible service members.
Log in to milConnect > "Benefits" > "Life Insurance (SOES - SGLI Online Enrollment System)".
Apprenticeships and internships for military personnel during their last 180 days of service.
Continuing education, training, and performance support for cybersecurity rates.

Space-A Travel (Space-Available Travel)

Information on free or very low-cost air travel for Sailors and dependents with very flexible schedules on military planes with available seating. These flights were formally called MAC (Military Airlift Command) flights, but that command was disbanded with most assets transferred to AMC (Air Mobility Command).
View AMC terminal locations and schedule information, along with DoD lodging, on our Navy travel map.

Special Request Chit [.pdf]

Official document for leave, special liberty, special pay, commuted rations, and other requests.

SNDL (Standard Navy Distribution List)

A directory of all Navy commands and their addresses. Updated quarterly.

SRB Calculator (Selective Reenlistment Bonus Calculator)

Calculate your bonus, if any, for reenlistment. Half of the SRB is paid shortly after reenlisting, with the remaining amount paid in equal annual installments on the anniversary of your reenlistment for the duration on the reenlistment.
Log in to NSIPS > "Career Information Management" > "Calculators" > "Selective Reenlistment Bonus".

STI Testing (Sexually Transmitted Infection Testing)

A comprehensive STI test is performed prior to joining the military. HIV is tested every two years, and is the only STI test routinely performed on males. HIV positive Sailors can continue serving in the Navy in both shore and sea commands. In addition to HIV testing, females aged 21+ are provided with a comprehensive STI test every three years. Not all STIs show symptoms and it is important for sexual active people to activly protect themselves from and routinely get screened for STIs.
Pro Tip: Go to Immunization for a free Gardasil vaccine sequence to protect against HPV (Human Papillomavirus). Both males and females at any age are eligible and can benefit from the vaccine (personnel ages 27+ may require an off-label prescription for the vaccine from their Primary Care Manager). HPV causes cancers and warts in both males and females, but there is only a test for HPV for females. The vaccine protects against multiple strains of the virus.
TDMIS (Technical Data Management Information System)

Verify latest publication version for technical manuals and view historical versions.
Online collaborative server for messaging and file sharing. Arbitrarily set up "email" address might use @cvr.mil

TraX (Travel Explorer)

Website to submit DTS trouble tickets and complete DTS training.

TRICARE (Stylized in uppercase but not an acronym)

A health care system which provides health benefits to service members and their families. Members must be registered in DEERS to be eligible for TRICARE.
View, modify, and schedule medical appointments through Patient Portal.

TRiPS (Travel Risk Planning System)

Creates a risk assessment and risk mitigation report some commands require for out-of-area leave.

TSP (Thrift Savings Plan)

View retirement savings and change which accounts LES contributions fund.
The amount going in to TSP accounts is managed seperatly at MyPay.
Log in to MyPay > "Traditional TSP and Roth TSP".
When creating your initial account, or when requesting your TSP Account Number or password reset, information will be mailed to the address listed in MyPay.
Pro Tip: Consider spending at least 10% of your base pay to your TSP account and investing in the "L-Fund" closest to your retirement date. If you can't afford 10%, start at what you can afford and increase the percentage at each pay increase.

TWMS (Total Workforce Management Services)

View qualifications and, at supporting commands, conduct muster.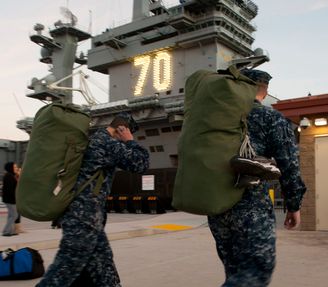 Be prepared for an upcoming underway with this checklist.
Sets clothing and grooming standards issued by direction of the Chief of Naval Operations and carries the force of a General Order.
Pro Tip: Chapter 1, Section 1: "Any procedures or components, regarding uniforms or grooming, not discussed in these regulations are prohibited." Also, "It is issued for information and guidance, and requires compliance when wearing naval uniforms."
Database of federal jobs for Sailors transitioning to civilian work.
An apprenticeship program between the Department of Labor and the military that lets enlisted service members use on-duty experience to earn journeyman status in a trade. Consult with your rate's LaDR for the most appropriate apprenticeship programs.
Formally called RP/6 (Rally Point 6), provides service members and their spouses with resources and workshops to help transition from military to civilian life.
VA Home Loan (Veterans Affairs)

Service members, veterans, and eligible spouses are able to use VA Home Loans when purchasing a home. The VA does not directly provide mortgages, but guarantees a portion of the loan which allows private banks and mortgage companies to provide loans on more favorable terms.

VITA (Volunteer Income Tax Assistance)

Free tax preparation for eligible Sailors. Look for "Tax information" on the JAG homepage during tax season.

Virtual Desktop

Connect to a virtual NMCI Desktop from a personal computer to access network drives and software. Learn how to setup your computer.
Offers complimentary admission each year to SeaWorld, Busch Gardens, or Sesame Place for Sailors and up to three dependents.

WebTA (Web Tuition Assistance)

Submit your command approved tuition assistance request to fund college courses.
X-Ray

We hate blanks spaces. Email us a good resource that starts with X and we'll send you a $25 Amazon gift card if we use it.
DoD site that connects National Guard and Reserve members and their families with deployment resources.
Zulu Time

A time zone used to convey a specific time, independent of local time zones. Typically terminated with a "Z" to denote Zulu.